Full Custom Kimber With Metallic Black Duracoat & Welded Finger Grooves!


TJ's Ultimate Kimber Custom 1911 .45
The Frame Has Been EXTREME MODIFIED With Welded Finger Grooves Added To The Front Strap
Entire Gun Plated With a TJ Custom Gloss Black Duracoat With Magic Gold Dust Metallic Flakes
On One Angle It Looks All Black And Another Angle Will Look Like Night Stars Sparkling GOLD!

Lightly "Melted" (Rounded - Sharp Edges Removed) Orange DayGlo Highlighting on Front Sight,
Polished & Jewelled Barrel, High Polished Barrel Round & Tip, &nbsp &nbsp 3 Hole Aluminium Match Trigger
Ed Brown Commander Hammer Mirror Polished & Jewelled, High Polished 2pc Full Length Guide Rod
TJ's Deluxe Action Work Package Taking the Trigger Pull Down To 2.0lbs and Crisp As Glass Breaking!
TJ Reliability Package To Ensure Complete Functional Reliability
( Throat & Polish + Fit & Polish Extractor + Commander Extended Ejector + Polish Breech Face )
Laser Grips Custom Coated With High Gloss Silver Snake Skin Duracoating, High Polished Stainless Hex Grip Screws

PHOTOS DO NOT DO THIS GUN JUSTICE!!!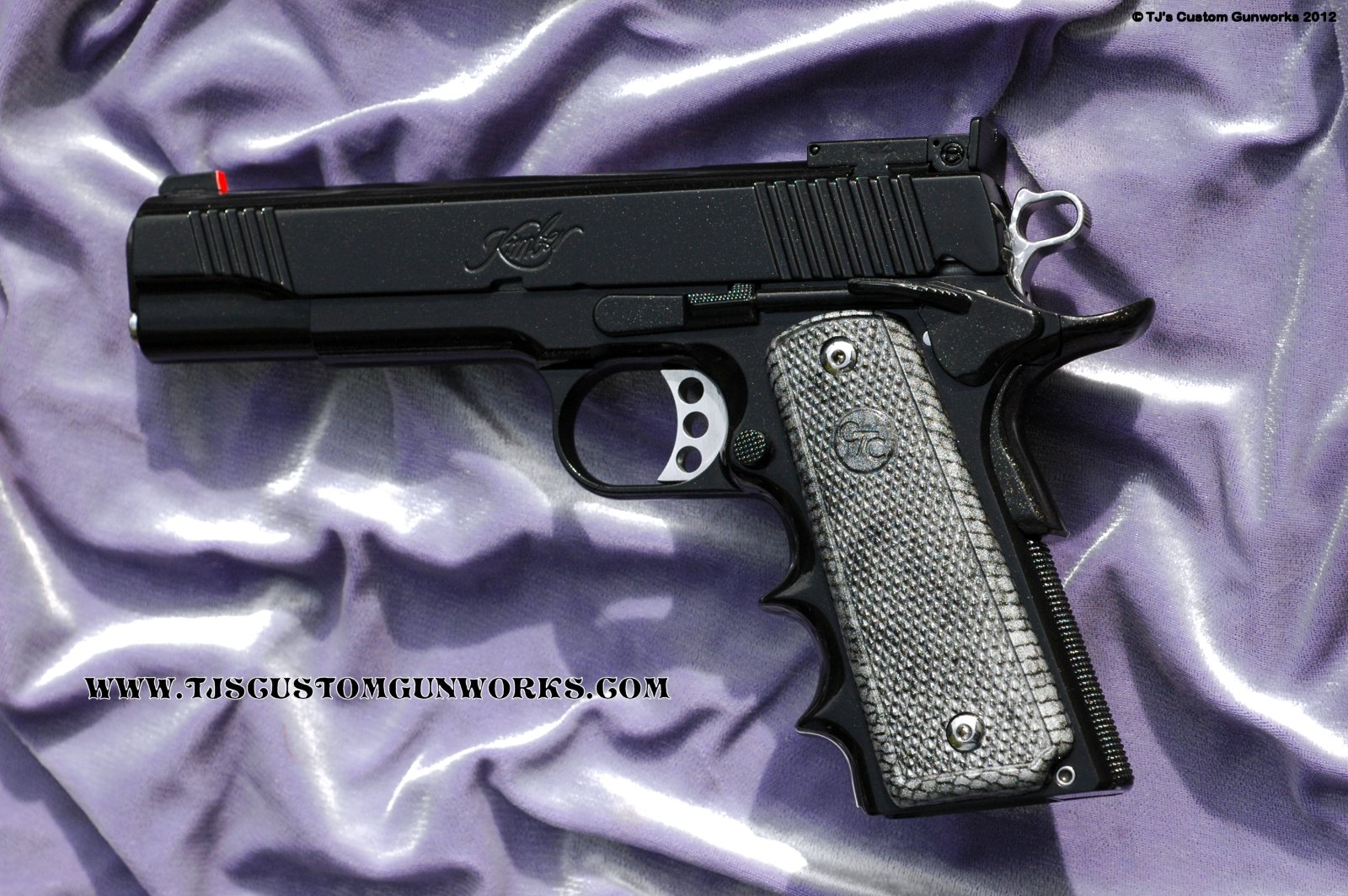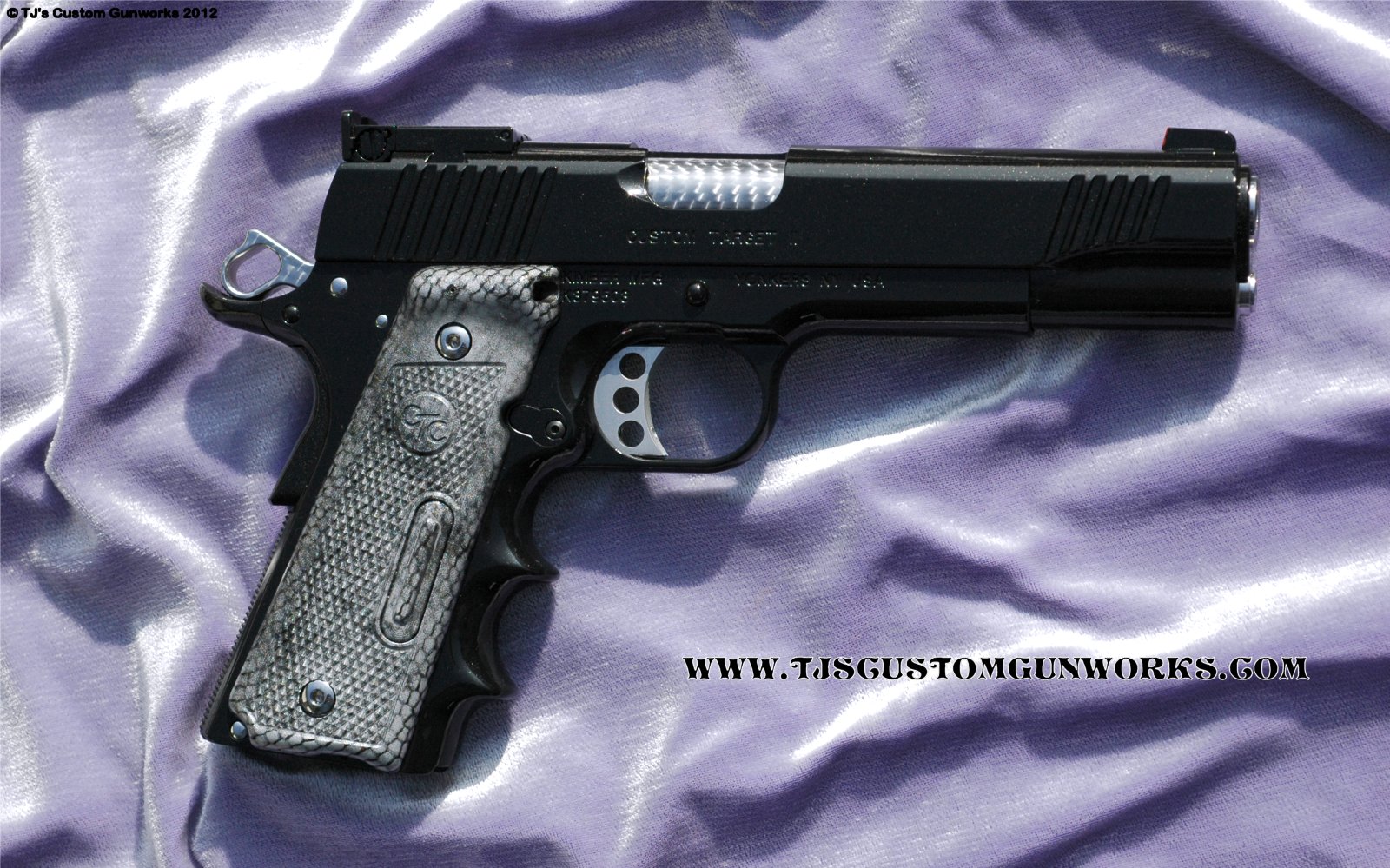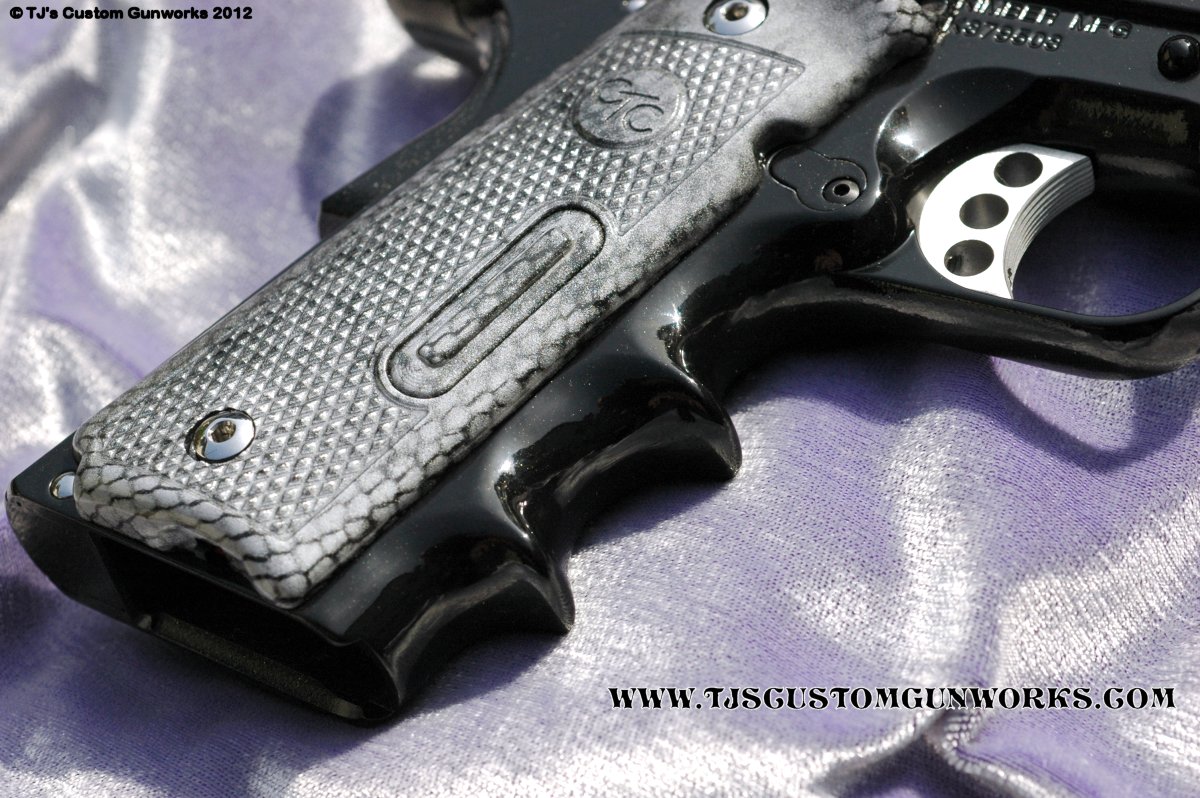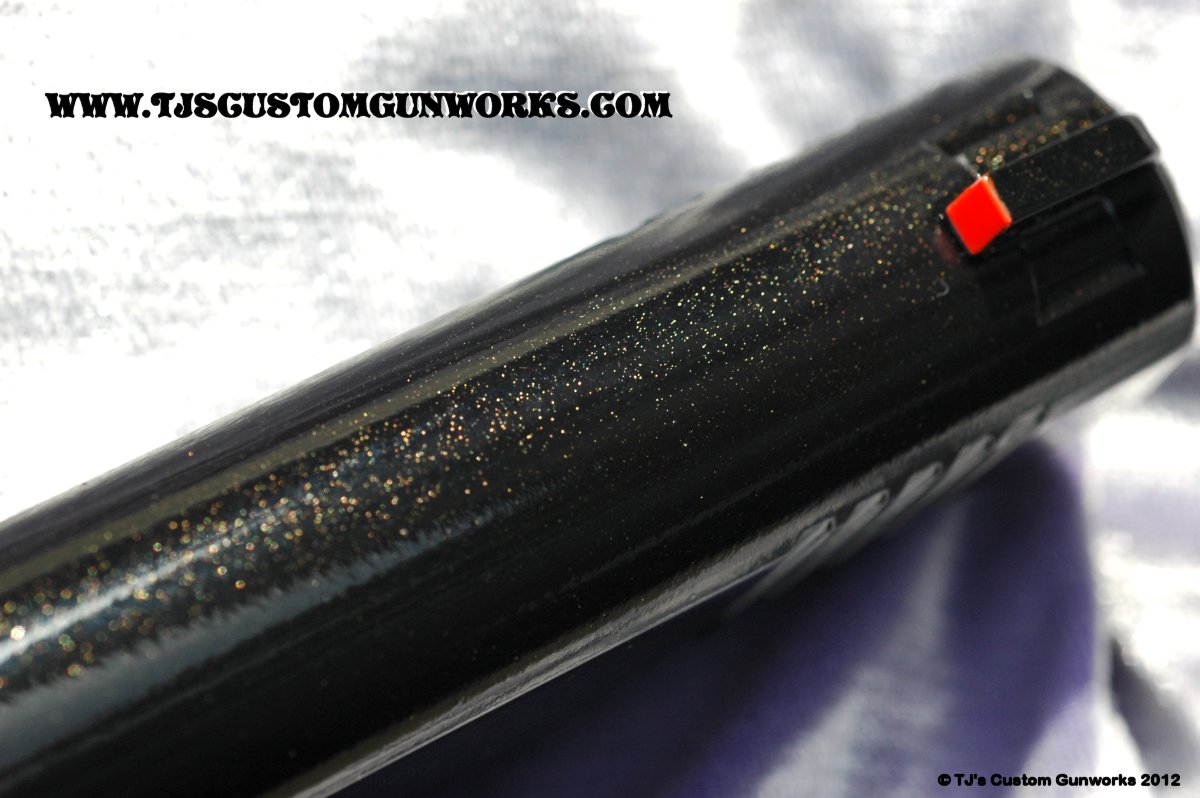 TJ's Inside Peek At Finger Grooving . . . . .

Stock Components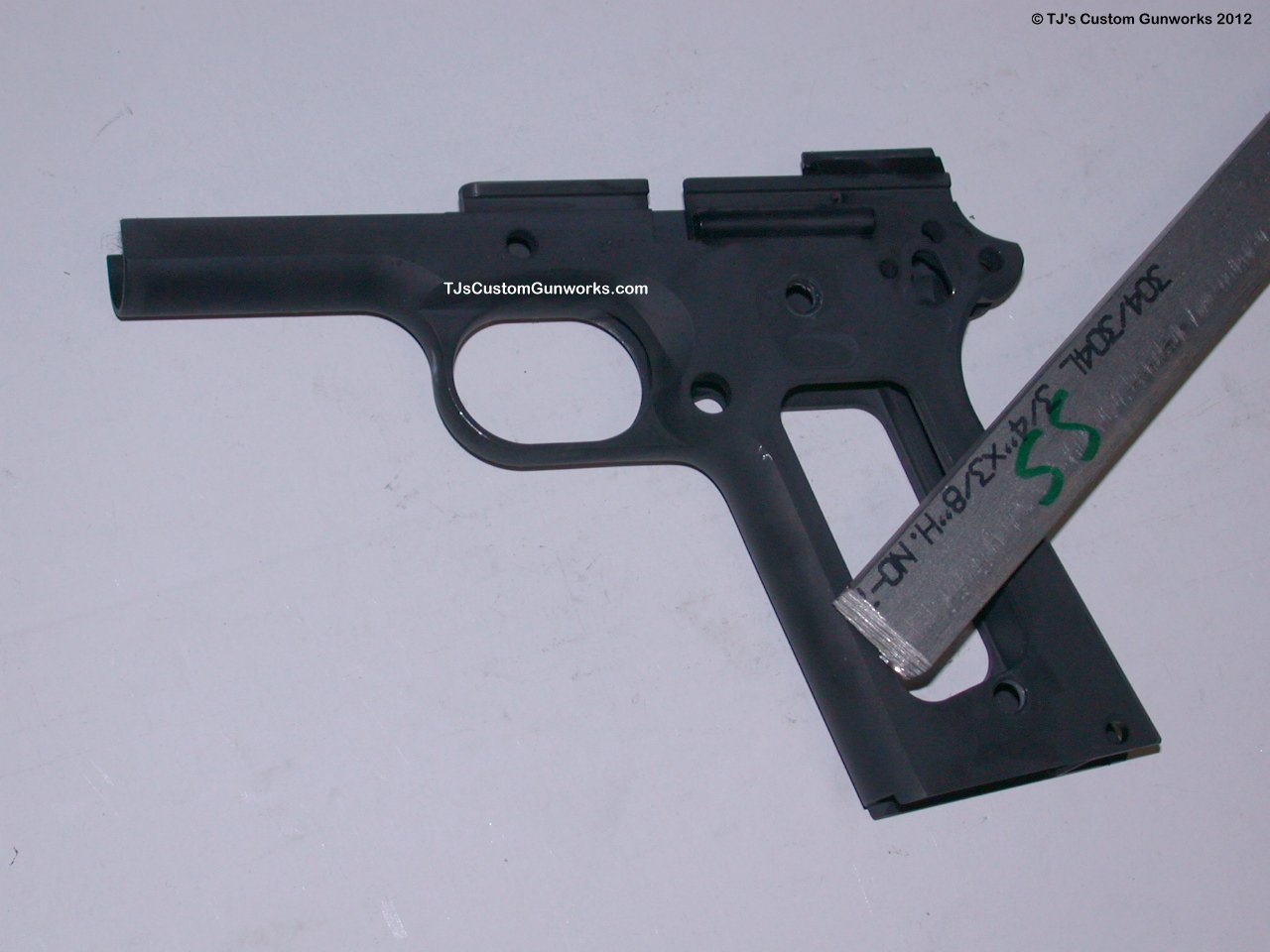 Stainless Bar Stock Cut & Rough Shaped + Frame Is Prepped

Blocks Welded Onto Frame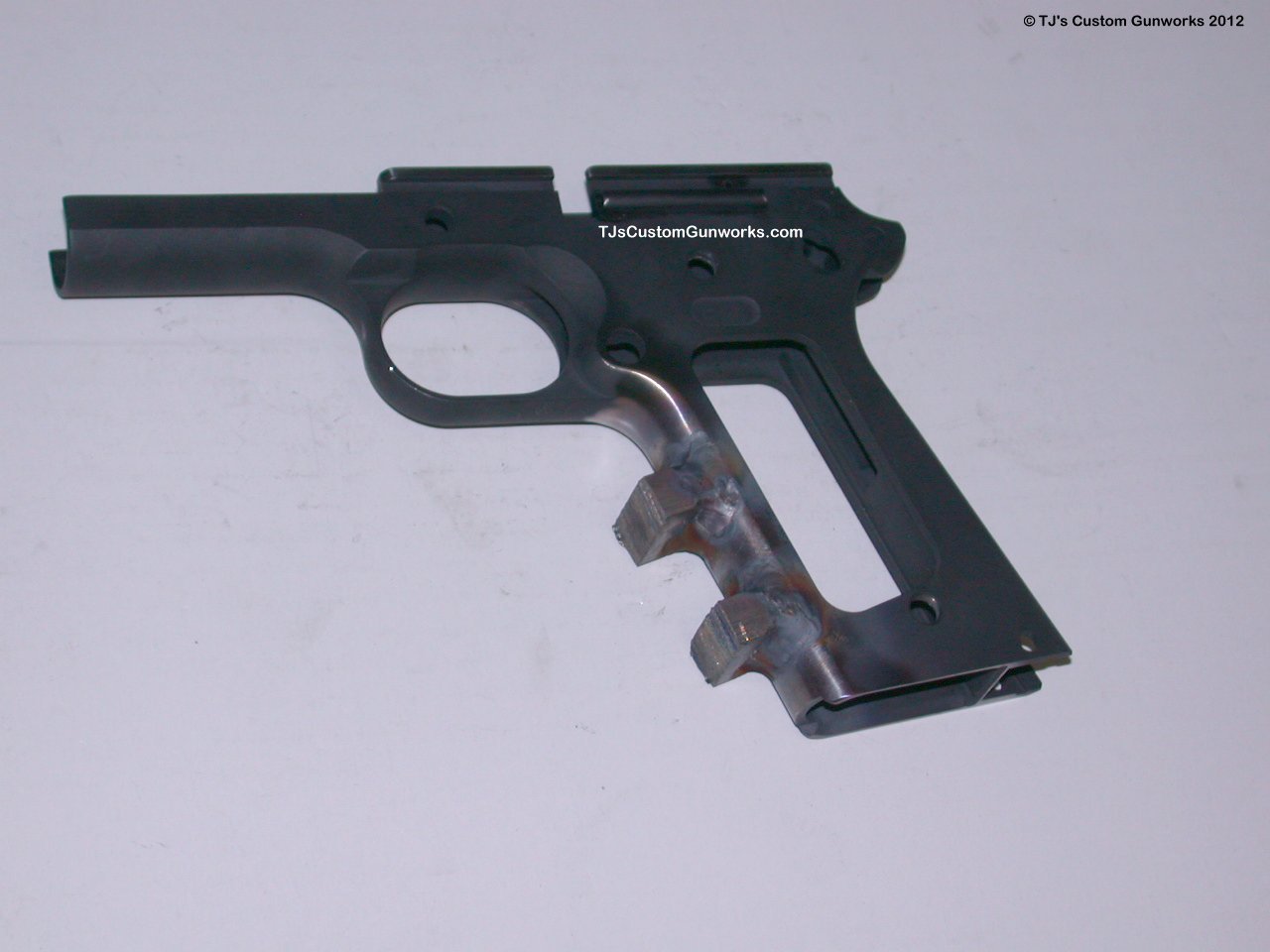 Finger Grooves Roughly Shaped Out To Fit The Fingers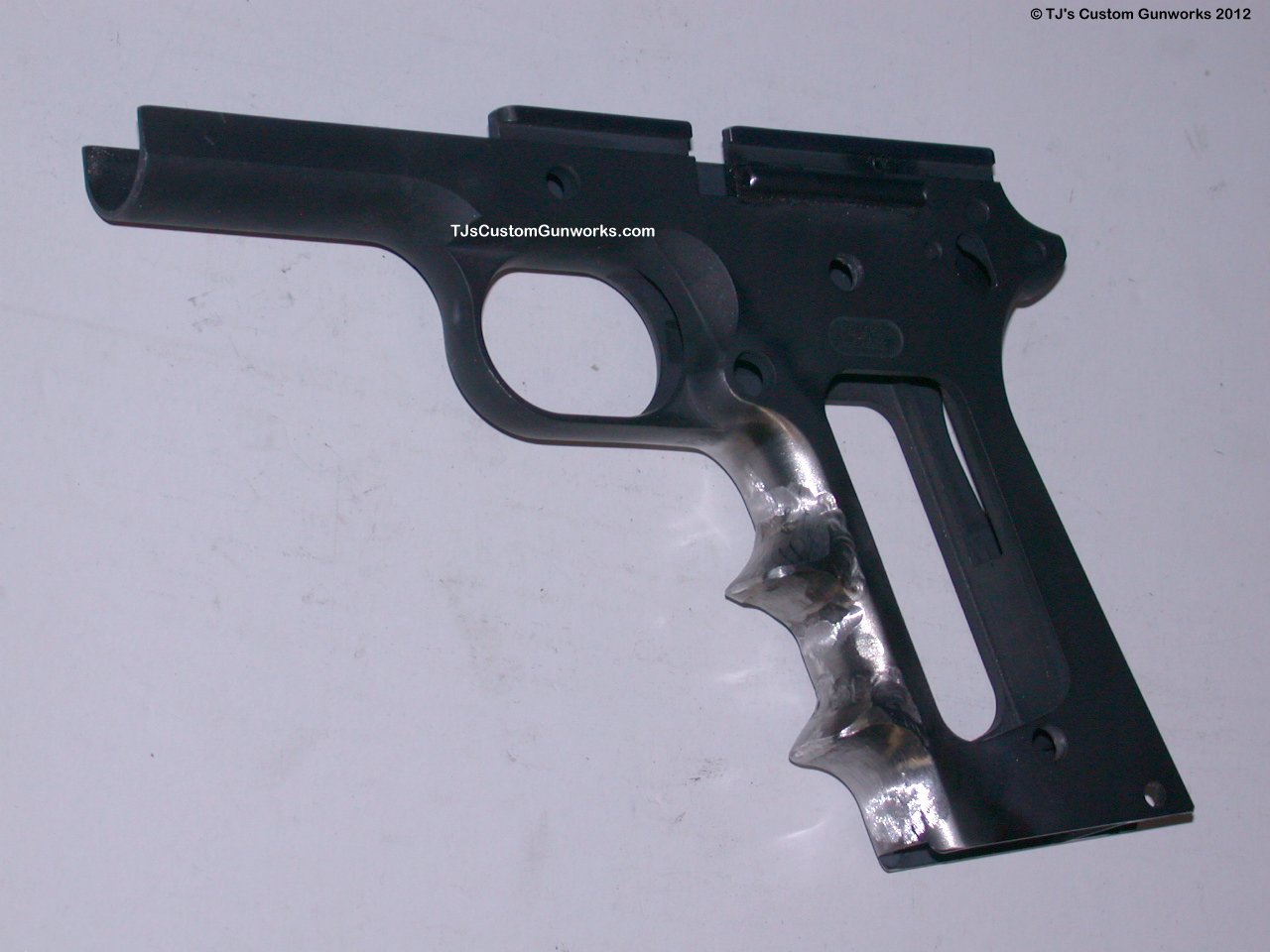 Then Low Areas & Pits Welded With Stainless Filler Rod.... x4 Times Ground - Weld - Ground - Weld - Ground - Weld - Ground

Then All Grinding & Welding Blended Out, And Finally . . . . Good Finished Finger Grooves!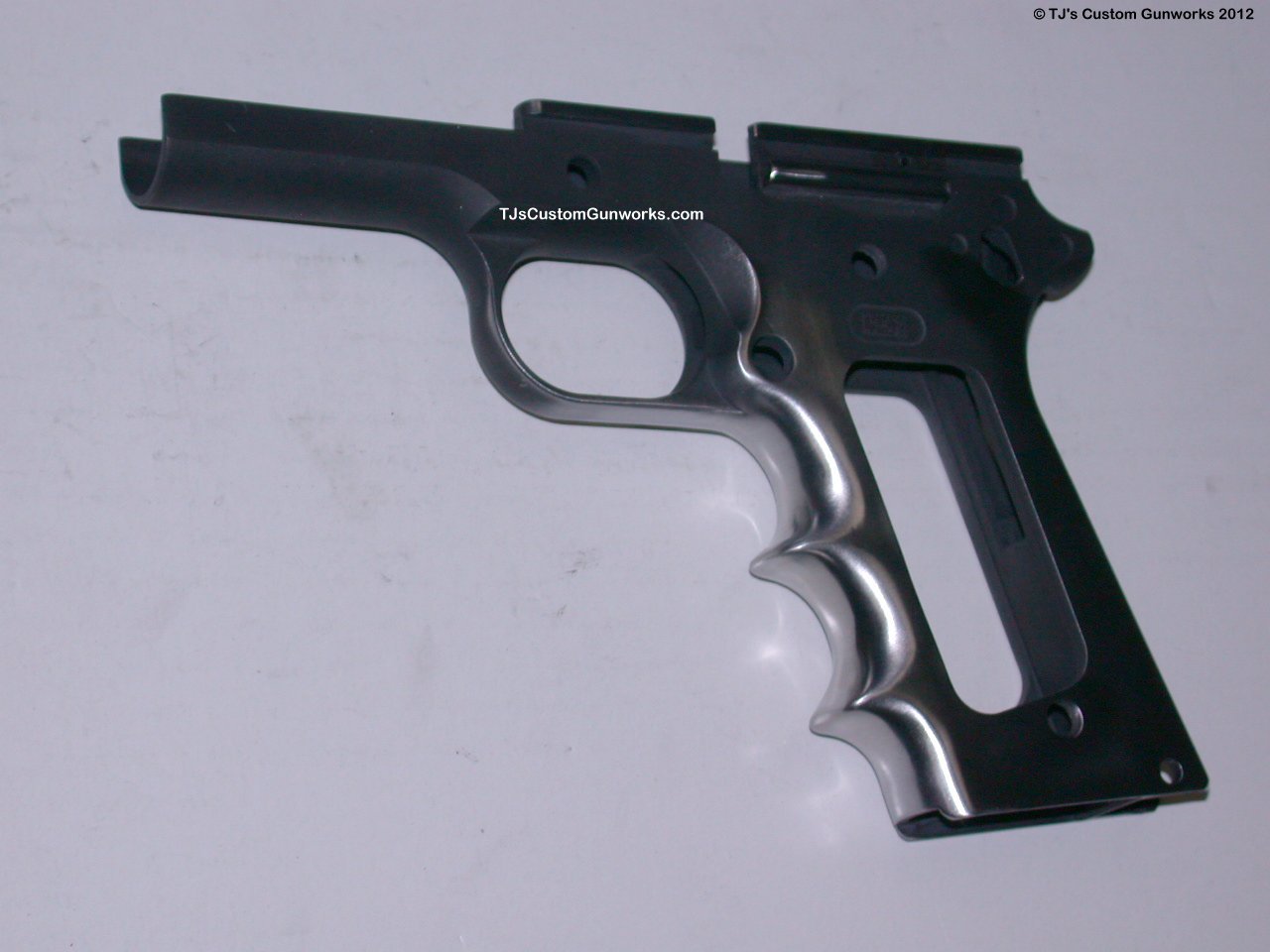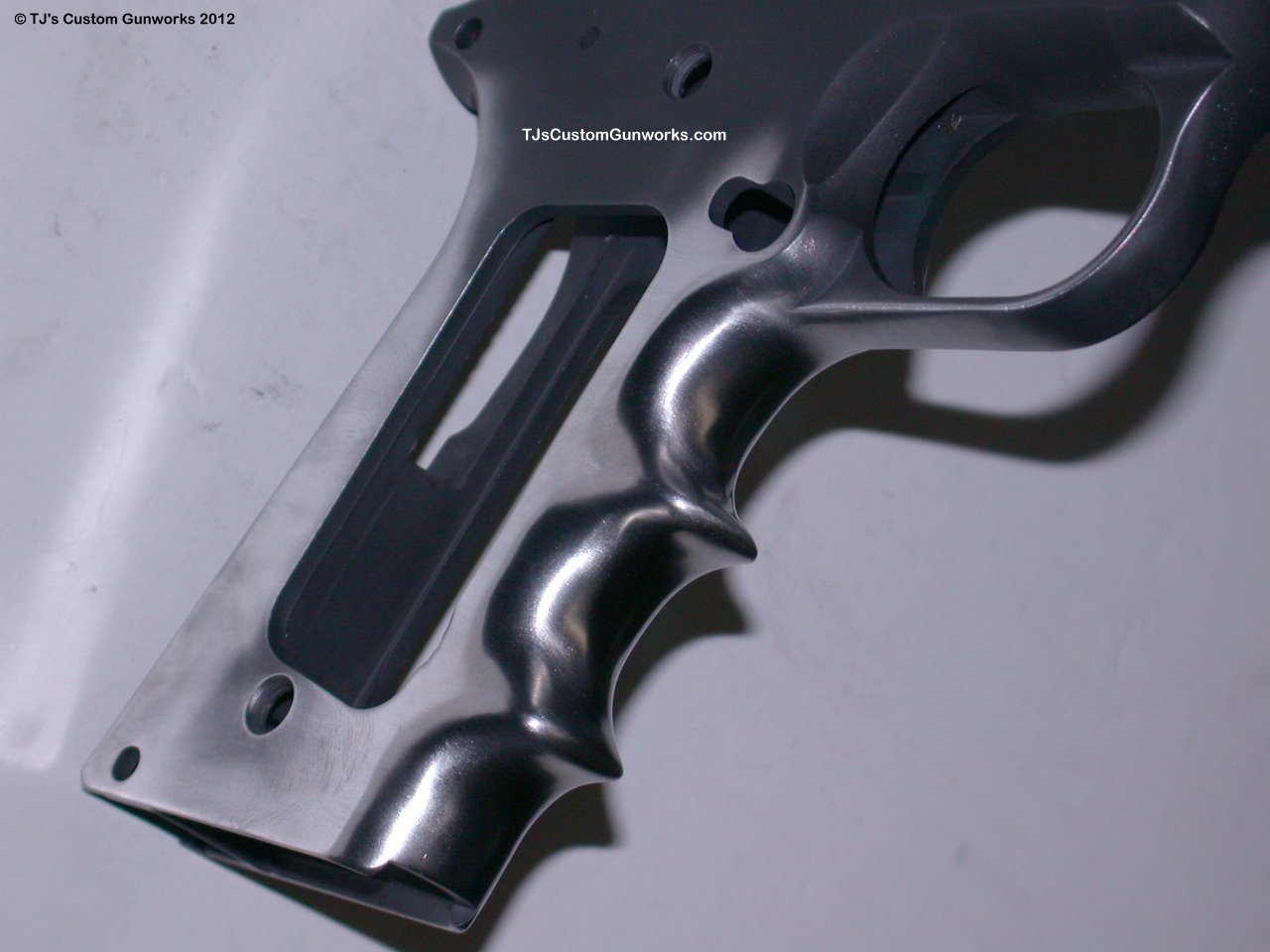 Then ReFinished With TJ's Custom Metallic Duracoating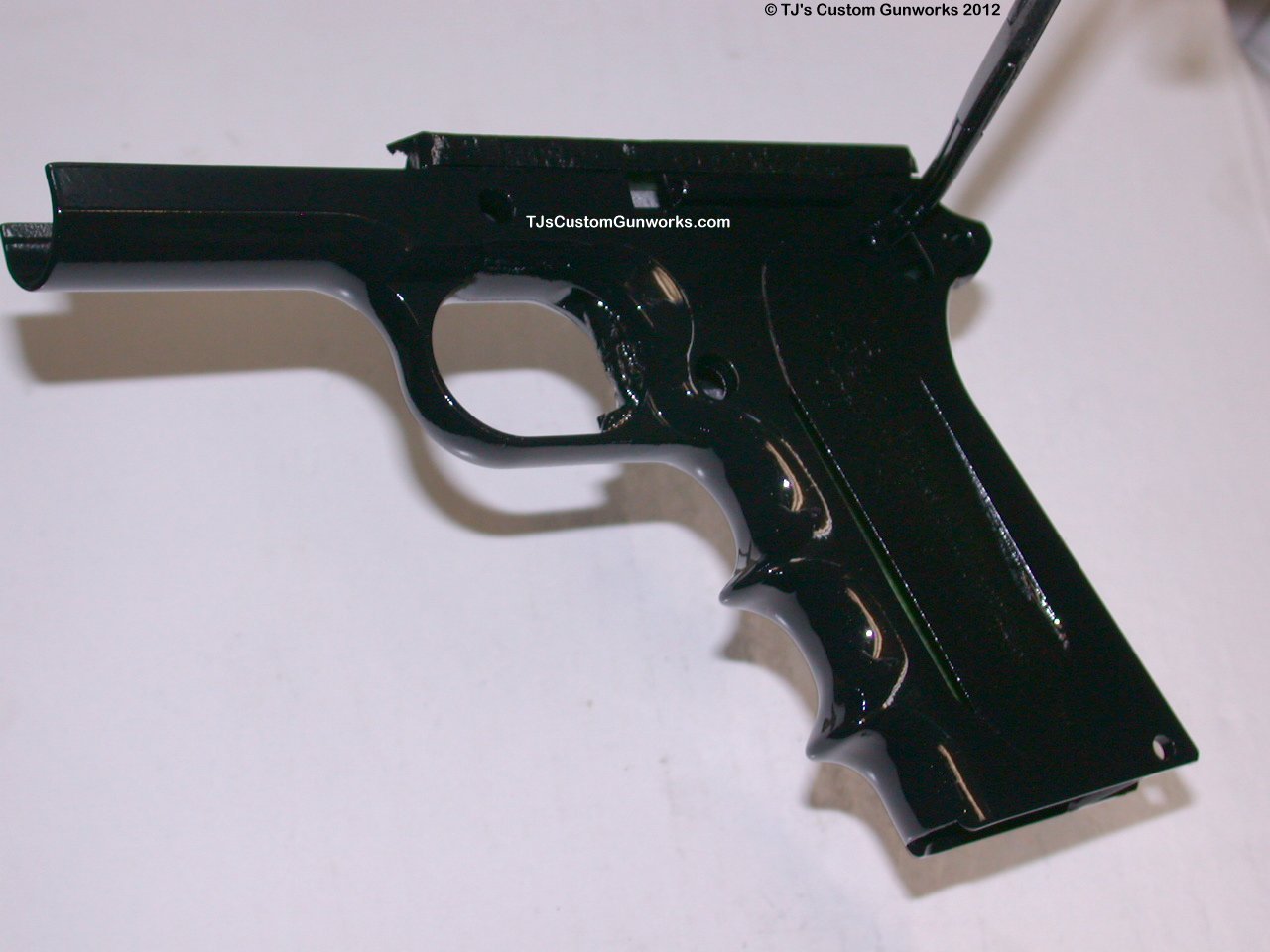 Then The Grip Trial. . . . Nope . . Black Plastic Won't Cut It . . . . Needs To Be TJ-ized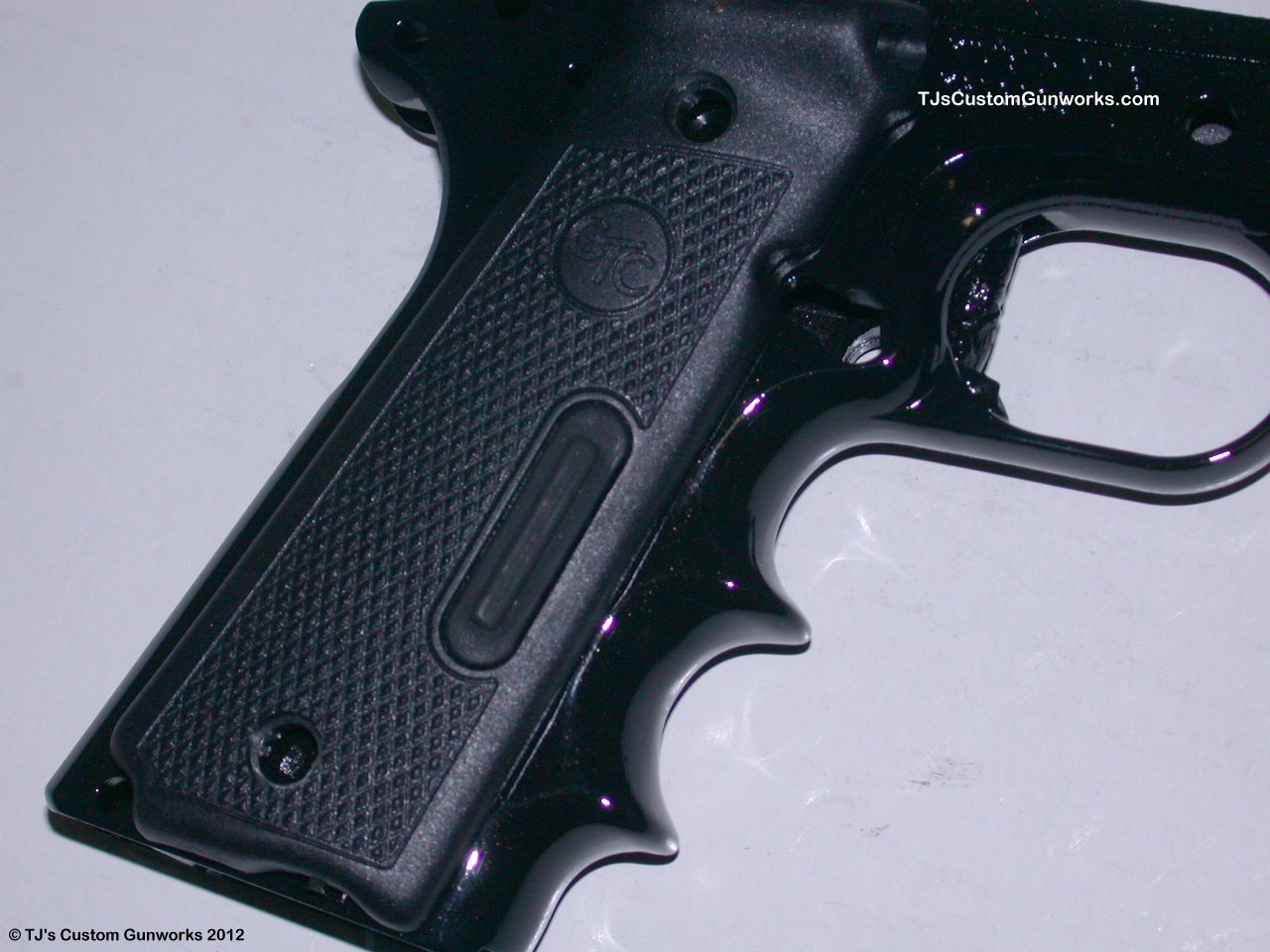 --- TJ's Custom Gunworks Home Page | TJ's Price Li$t Page | Frequently Asked Questions ---