The Dark Hello Kitty™ inlayed - Blackwater™ Sig Sauer P226

PLEASE NOTE THAT DUE TO THREATS AND IGNORANCE FROM SANRIO™ (MAKERS OF HELLO KITTY™)
I WILL NOT DO ANY HELLO KITTY™ INLAYS AS OF 29MAY08
YOU CAN THANK THE TYPICAL LIBERAL ANTI-GUN MENTALITY FOR THIS

Below is only a photo archive of Hello Kitty™ brooches that I bought legally.
I do not sell Hello Kitty™ products, they are redily available online elsewhere.

The Dark Hello Kitty™ inlayed - Sig P226 ....

Obviously a Very Customized Sig P226 9mm With Custom Anodized Pink & Silver Frame
5 Stage HOT Pink Custom Painted Slide With Accents, Purple Pearl Painted Small Parts,
A Polished - Jewelled - Serrated Hammer, TJ Stainless Steel Short Trigger,
High Polished TJ Hex Head SS Grip Screws, Polish & Jewelled Extractor
Night Sights With Green DayGlo Highlighting, Polished & Jewelled Barrel,
Polished Barrel Tip - Guide Rod & Tip - Pins + More!
Swarovski Crystal 'Hello Kitty' Brooches + Swarovski Crystals Inlaid Into Hogue Grips

+ The TJ Level 1 Action / Reliability Package Including.....
Full Deluxe Action Work, Smoothing Both DA & SA Trigger Pulls
TJ's Ergonomic Stainless Steel Short Rounded Trigger
Throat & Polish Of The Barrel & Feed Ramp
Fit & Polish The Extractor
Full Inspection, Oiling, Tuneup
I know, the first question is 'WHY???'
The answer is simple, because THAT is what the gal ordered!
And TJ will make your custom gun dreams come true if you pay for it.

The next question I hear, is 'HOW MUCH???'
The gun was provided, so the custom work was around $2100,
and nearly $500 of that was just for the grips & inlays.

&nbsp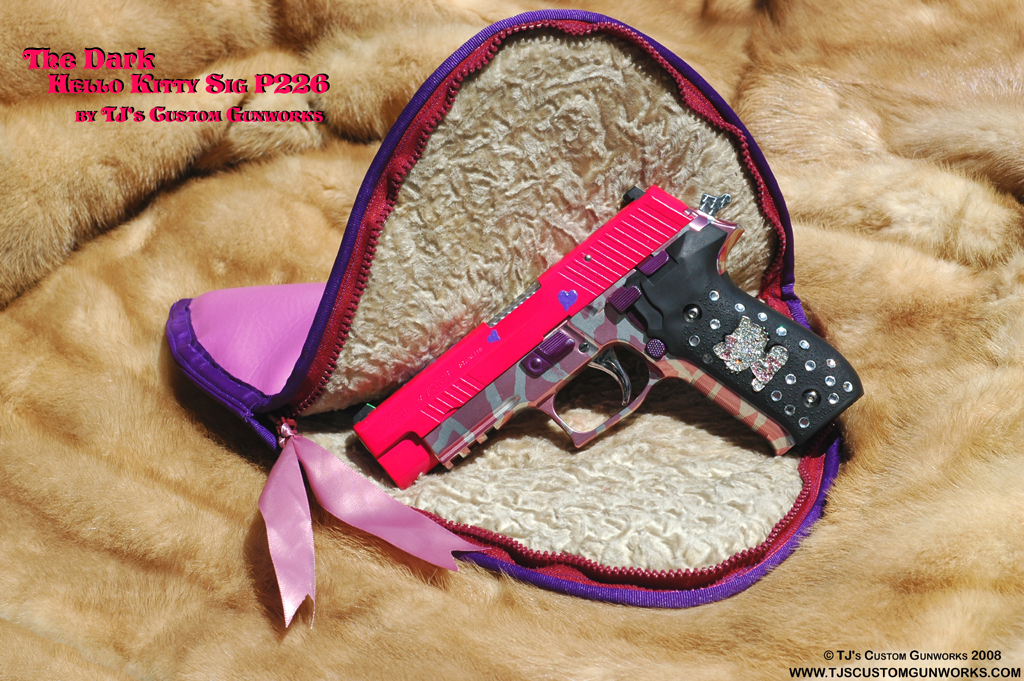 . . . . . oh, and let's not forget the custom genuine fur lined gun rug . . . . .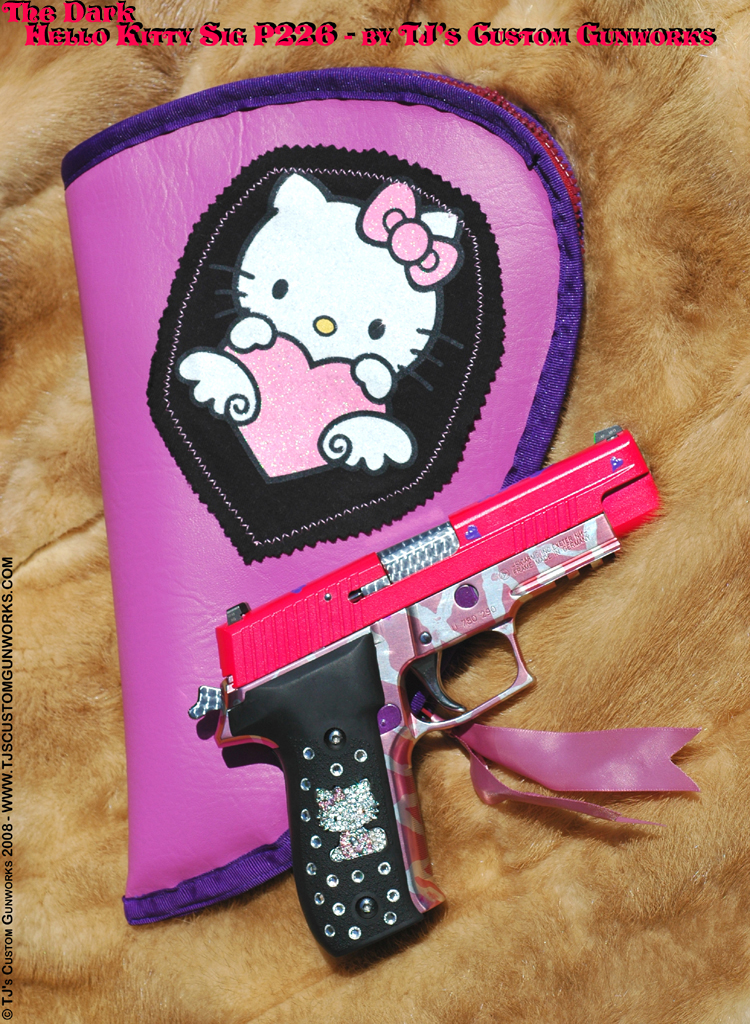 TJ's Home Page | TJ's Price List | TJ's F.A.Q. Page